This country's a bit odd. I only say this because this is the second day that we've seen some older person scream in the middle of the park, repeatedly, with no one looking at them like they're crazy. Apparently it's a common exercise here? I guess they train at an early age with weird exercises.
Kameh Hameh HAAAA!!
Anyway. Weird folks here. Moving on!

We decided to go find mom at the park since she decided to exercise there every morning while we're here, and I saw so many cars on the way so I decided to take a pic. They park their cars in neutral so that if it's in the way, someone can push the car out of the way! I was just saying to my compadre that Koreans are very trusting. There's hardly any crimes here, or car accidents, but then again, we're in the rich part of town...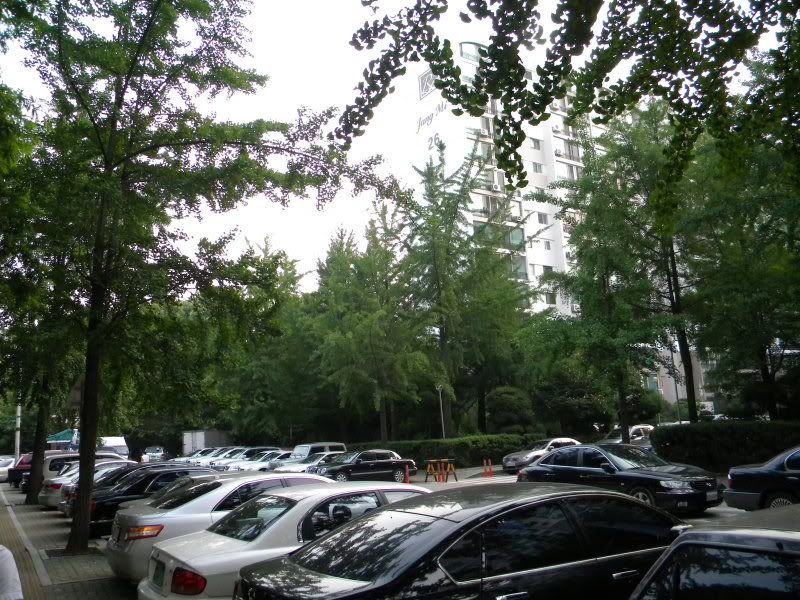 Haha, this is my aunt's dog Yun-Doo growling at us. Brat. She's so spoiled! Small dogs are really popular here because there are so many apartments!


My grandma and my dad :) Sniff sniff, so PRETHIOUS!


This is where we ate some grub! Not literally grubs, I feel like I have to clarify when eating in a foreign country.. Yummy food. There's cabbage and lettuce salad, sauce for the meat, crab, acorn jelly (kind of like tofu), kimchi, mushrooms, spinach and whathaveyou.

Yes. That is baby octopus. Lemme just say that brother ate it. Not moi.


The kalbi! Kalbi's a pretty big deal here, it's just Korean marinated spare ribs, basically! But this kalbi was a little different because it was ground and grilled, opposed to the more traditional method of charbroiling.


The market! Dunnit look neato?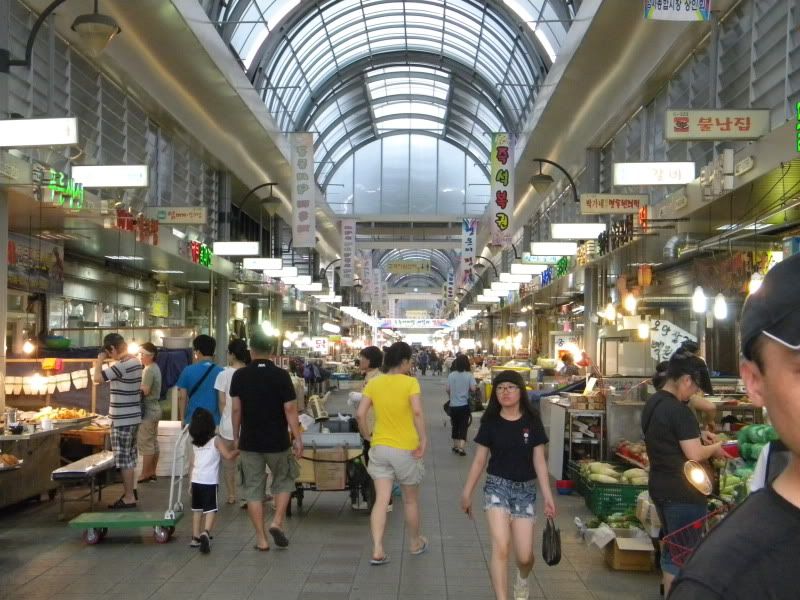 Okay, little disclaimer: I WAS COMPLETELY SHOCKED WHEN I READ THE SECOND SIGN TO THE LEFT:
Okay. It says dog meat. NO JUDGING! Dog meat is actually pretty popular in North Korea, and it's a little rare to see it here. But some people here still like it! I didn't have the guts to see it up close unless I wanted to see my breakfast again...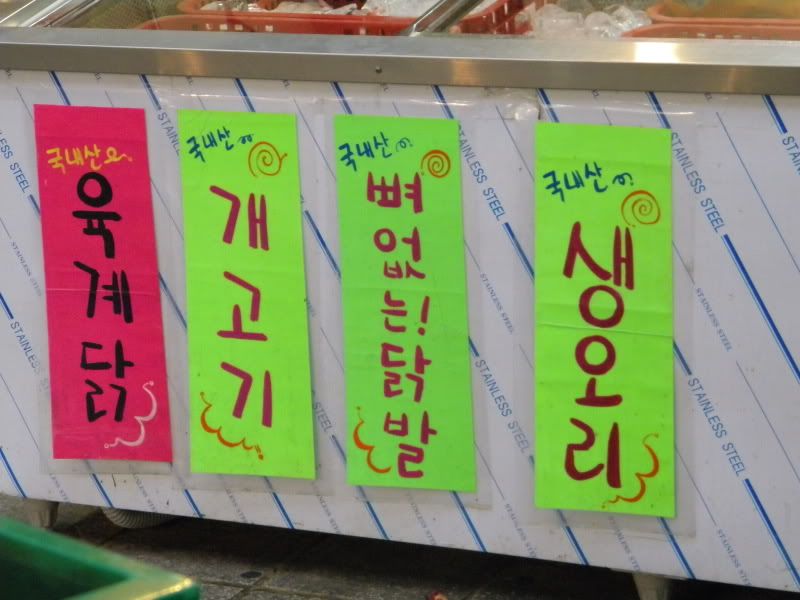 Dduk! Traditional rice cakes with all kinds of different toppings. Not gross ones. It's like nuts, raisins, rice powder, good stuff! It's not too sweet but still very good. :)


Five brownie points if anyone can tell what this picture is of!


Little booth with the traditional street food: Fish cakes, Ddukbokki (Spicy rice cake dish), Fried veggies and squid, rice rolls, yummay!


Papbingsu! Traditional desert, it has ice shavings with milk, fresh fruit, corn flakes, sweet rice cakes, sweet red beans, and ice cream (if you're feeling adventurous).


Korean grapes. These are SOOO good, they kick American grapes in the tuckus, too.

And that is it!
-SOY.